Current Events 2:00 p.m.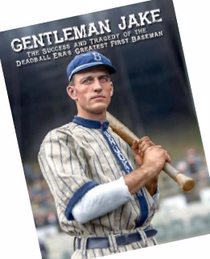 The Success and Tragedy of the Deadball Era's Greatest First Baseman Jake Daubert could have followed the path of two of his brothers and died as a young coal miner. Instead he died as an active baseball player. Baseball provided an escape from the dangerous coal mines of Pennsylvania, but it couldn't save him from an undiagnosed genetic condition that cut short his life as one of the best players of the Deadball Era. Jake died in 1924 after a 15-year career during which he had a lifetime .303 batting average, set a National League record for career sacrifices that still stands, won a most valuable player award, was a two-time batting champion, and won two NL titles and the 1919 World Series championship with the Cincinnati Reds over the infamous Chicago Black Sox.
After his wife convinced him to follow his baseball dream, Jake became baseball's premier first baseman in an era that produced some of the all-time greats, including Babe Ruth, Ty Cobb, Tris Speaker, Walter Johnson, Christy Mathewson, and Zack Wheat, all Hall-of-Famers. Despite Jake's stellar career, he didn't join them in the Hall of Fame, perhaps because of his conflicts with team owners and his active union role as a defender of players' rights.
Time has relegated Jake to baseball obscurity, but 100 years ago, he was a star known as much for his clean living, intelligence, and integrity as he was for his batting and defensive skills.
Work on our short-term exhibit space is complete!
Come view the interesting items and artifacts from the Society's collections in the expanded display cases.
Sun., June 4th through Sun., October 29th,

2:00 to 4:00 pm
Museum and Fort Augusta replica Open
Tours of the Fort replica, the grounds, and the museum are available each Sunday from 2:00 to 4:00 pm. Bring your family and friends to learn about this fascinating gem of Northumberland County history!